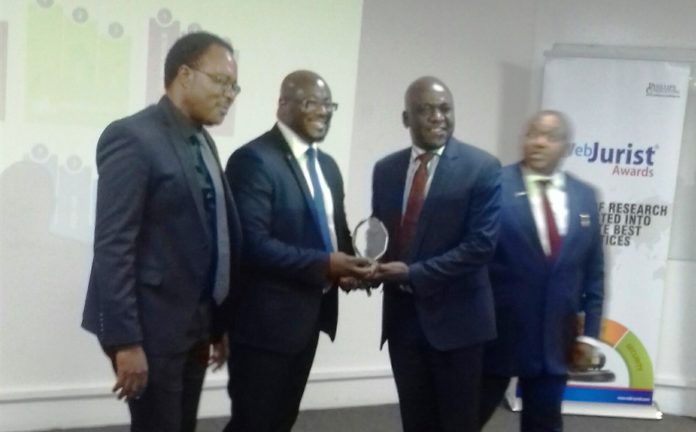 By Martin Ekpeke
The official website of the Nigerians Communications Commission (NCC), was today adjudged the overall best in Nigeria in the Ministry, Department and Agency (MDA) category of the 2017 edition of the highly coveted Web Jurist Awards, organized by Phillips Consulting in Lagos.
NCC was declared the best ahead of the Nigeria National Petroleum Corporation (NNPC) and the Bank of Industry (BOI) respectively in the MDA category, making it the second year the Nigeria's telecom regulator is winning the award consecutively.
Narrating how the NCC's website was adjudged the best, Mr. Oluwaseun Ngonnase, Senior Partner at Phillips Consulting noted that over the years, the NCC's website has shown remarkable improvement, beating all MDAs in that space.
"The NCC's website has continued to display a robust real-time content, it is interactive and provides its online stakeholders with accurate, relevant and timely information at all times," he said.
Receiving the award on behalf of NCC, an elated Mr. Abraham Oshadami, Head, Information Technology at NCC, said it is good to receive the award, adding that it is also a challenge for NCC to continue to improve on their service delivery in all ramifications. "We recognize that our website is the window to the rest of the world. The first contact anybody can get about NCC is through website, so we try as much as possible to use the website to portray the image of the Commission."
Oshadami believes that, the award which the Commission also won in 2016 is a reflection of the kind of workforce and management, which is at the disposal of NCC, where competence comes first.
Asked about what the Commission is doing to improve the website and make it more interactive, Oshadami said the NCC is working to make sure the animations, representations and contents in the website are localized and easy for anybody to understand.
The Web-Jurist rating and awards is an initiative of Phillips Consulting Limited, which is aimed at measuring the effectiveness of websites in the private sector, to ensure continuous enhancement of e-business activities and encourage better web communications practice.
The Consulting giant had carried out a detailed evaluation of the websites of 20 commercial banks, 103 Federal Government parastatals, 29 state governments, 47 insurance companies, four telecommunication companies and seven indigenous airlines.
The web jurist awards, which commenced in 2001, evaluate the effectiveness and performance of Nigerian websites based on set criteria agreed by e-business experts from Philips Consulting. Winners are selected in categories that include: Aesthetics; technical aspects; website content, e-financial services, customer experience and performance. The award also recognizes other organizations across Banks, discount houses, telecommunication and insurance firms.