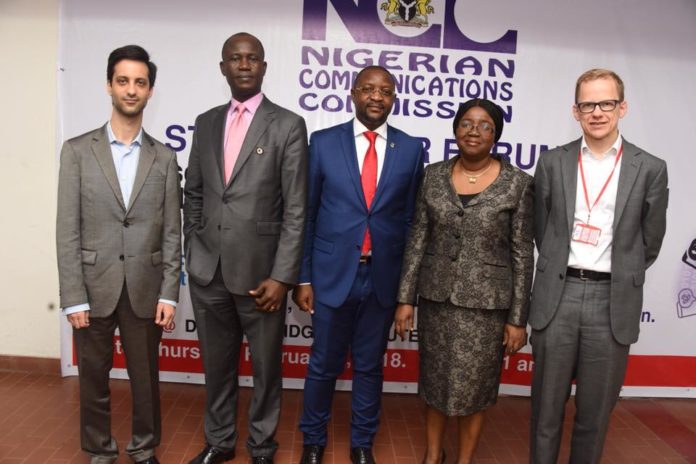 By Martin Ekpeke
A new Interconnect rate is expected to berth in the Nigeria's telecommunication space latest March this year.
This was the position of the Nigerian Communications Commission (NCC) yesterday, at a forum on cost based study for the determination of mobile voice termination rate in Lagos.
According to Mr. Sunday Dare, Executive Commissioner, Stakeholder Management, the new interconnect rate is critical to the growth and development of the telecoms industry, stressing that it a key component of the commercial aspects of interconnection between the network service providers.
"We are working and hoping that Nigeria would have a new Interconnect rate by March this year," he said during an interaction with the press on the sideline.
Dare, who represented the Executive Vice Chairman, Prof Garba Umar Dmabatta at the forum, also explains Interconnect rate as the fee an operator charges another for connecting and terminating a call on its network.
He disclosed that apart from the first interconnection rate, which was based on negotiation between the incumbent operator (NITEL) and other operators, all other determinations have been handled by the commission due largely to two reasons. The first reason is that the negotiated interconnection rate was fraught with many controversies, secondly, there was a need to ensure interconnection rates are cost-oriented in line with international best practice.
He said the new Interconnect rate becomes necessary largely to economic factors the fact that Nigerian network service providers became perpetual net payers to their overseas interconnecting partners.
After the expiration of the 2013 interconnect region in 2016, the commission engaged the services of  PricewaterhouseCooper (PwC), UK  to review and update the existing model taking into account the changes that have occurred over time and produce an interconnection call model that is more in line with the current realities in Nigeria.
This project formerly kicked off with the initial stakeholders' forum held in February last year with the primary aim of introducing the consultant to the industry, informing operators of the objectives of the study, and seeking their active participation by way of providing the requisite data and other information for the study.
He stated that having concluded the study, the consultants is set to present its findings, and consistent with the Commission's principle of ensuring participatory regulations, the floor will be opened for an intensive review and discussion of the findings for the study. "The outcome of the deliberations today will culminate in the final determination of the mobile termination rate for the industry," he said.