By kester Omu
Concerned Nigerians have called on the federal government to pay attention to the country's gaming market, especially Sportbetting, saying the market, which industry watchers estimated to be a N2bn+ a day business has the capacity to contribute greatly to the country's economy, when properly harnessed.
Some Nigerians, who spoke to ITPulse on the street of Lagos, noted that, apart from the huge financial resources that go into betting among the youths, the industry has also proven to have created direct and indirect jobs for millions of Nigerian youths, placing bets on football games weekly.
They believe that there is money to be made in the Nigeria's Sport Betting industry, with some of the platforms, offering Naira affiliate code, where people are given opportunity to earn 100 per cent bonus. This, they noted, is the new way to get out of Nigeria's present rat race.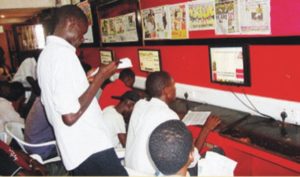 For instance, Ibe Chinedu, a Nairabet vendor, Nigeria's first sports betting platform, believes that Sport betting is a gold mine with huge potential that is yet to be tapped by Nigerians and the government He said as a vendor, he knows the multiplier effect of what Nigerians spent daily to play betting.
"As a vendor, I can tell you that the kind of money that goes into betting in Nigeria, especially among the youths is huge. I am tempted to believe that many industries in the country do not have the kind of cash flow that Sportbetting has," he argued, adding that, though it is difficult to know the attraction, Sportbetting has proven to be a major source of income and a survival strategy for many Nigerians, who are largely residing in the cities.
While urging the federal government through the National Lottery Regulatory Commission to make use of  technology in driving innovations in the industry, Chinedu argues that betting in Nigeria provides an unprecedented alternative source of revenue for the government.
According to available statistic, over 60 million people in Nigeria within the youthful age range are into betting and gambling. This is not surprising. Nigeria is a football crazy country that has a huge youth population. But, as it stands today, Sport betting is not limited to football lovers only. It has also extended to those who have nothing to do with football or any other game.
On Saturday and Sunday mornings, young men gather at betting shops all over Lagos, Nigeria. They are placing bets on the weekend's football games. They bet on the result of matches of the biggest football leagues in the world.
Nigerians, who bet are easily noticed, as they held on to their bet tickets, hoping and praying results go their way.
It is not surprising that Nigerians in the youth demographic are heavily involved in betting. For some, it is a way to make quick money, while others argue that the high rate of unemployment is largely responsible for the uptake of betting in Nigeria.
This, Chopinx Abayomi, an undergraduate at the Lagos State University, Ojo, thinks must be checked by the government. Abayomi, who started betting when a friend convinced him of the huge financial gain, disclosed to ITPulse that he was close to becoming a millionaire from betting, but got messed up as a result of a wrong bet on a single game.
"I placed a wrong bet on a single game and that messed up my ticket and stopped me from being a multi-millionaire today," said Abayomi, who spends nothing less than N2, 000 in a week for betting.
Sport betting business is a very lucrative business in Nigeria at today, making millions off the shelves daily from bet that people are placing. Thus, many people attributed to Nigeria's huge population of over 200 million people with a high  unemployment rate and ravaged with the badly managed economy.
Many online betting platforms exist in Nigeria, with Nairabet being the oldest, strongest, financially stable and fast paying betting company in Nigeria with world class customer support. The top 10 betting platforms in Nigeria, according to BestCityBet are Nairabet,  Bet9ja, Naijabet,  1xbet9ja, Megabet, Merrybet, BetOlimp, Bet365, Noxwin and Betway.